Contact & Location
If you require more information about Porta Hotel Antigua, would like to make arrangements for an upcoming visit to La Antigua or have a comment or suggestion about a recent stay at our hotel, please contact us. Our amazing team will be happy to assist you! Enjoy the best rates and conditions when you book your reservations directly through the Porta Hotel Antigua website.
How to locate the hotel
We are three blocks south from La Antigua Guatemala's Central Park
Porta Hotel Antigua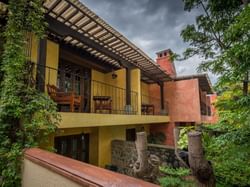 Located in the heart of Antigua, a short stroll from the vibrant Parque Central, this five-star boutique gem features two beautiful pools, the elegant Los Moros Restaurant and the exquisite Ceiba Spa.
Porta Hotel Antigua
8va. Calle Poniente No.1
La Antigua Guatemala
Sacatepequez - Guatemala, Central America
Phone: +1 877 765 0919 | +502 7931 0600
Fax: +502 7832 0807